Puja 2023 – Food Schedule & Guidelines
Food buffet will be served every day according to the following schedule:
---
Further to the details shared earlier, please find below the guidelines that have been finalized related to Food for Durga Pujo 2023.
Members are requested to follow the food serving schedule without any special requests of early or late servings.
Each Family Member will receive 4 coupons per family per meal for all the meals (lunch and dinner) commencing Sashthi evening and ending with Nabami. There are no coupons distributed for Panchami, Sashthi (lunch), Dashami and Bijoya Sammelani as these days are only for members. It is expected that families should only take coupons as required. Each coupon would be specific for a single meal and would not be utilized for other meals and coupons are Non-Transferrable. Any extra coupon that a member has cannot be given to their friend or guest.
Single Members will receive one coupon per meal (lunch and dinner).
There will be no coupons for breakfast and evening snacks.
Members can buy coupons for their guests @ 400 THB per coupon for dinner and 300 THB per coupon for lunch. Food Committee would appreciate receiving notification of such guests preferably 1 day in advance for better planning. Please use the guest registration form below to purchase coupons.
Sponsors will receive 4 coupon per 5000 THB of sponsorship. The coupons will be handed over to the collector of the sponsorship for distribution. These coupons will be valid for any day across the Pujo duration. It is appreciated if such confirmation of attendance is notified to Food Committee 1 day in advance.
The Caterer will not serve any food without presentation of coupons.
Non-members can buy coupons from Food Committee as follows:

Lunch / person: THB 300
Dinner / person: THB 400
For children younger than 5 years: No coupons required.

In case of unexpected rush, the Food Committee reserves the right to stop selling further coupons to non-members. This situation can be avoided by giving advance notification to Food committee.
---
Here is the link again, in case you're unable to click on the button above: https://bharatithailand.com/durga-puja-2023-guest-registration-for-food
You may also share this QR Code with your guests or inquiries that you may receive, for easy registration.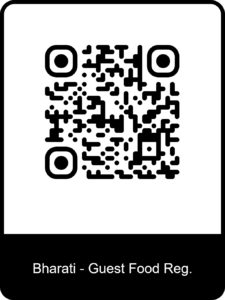 ---
Members are requested to not leave unused coupons at the venue and should dispose them off so that they are not mutualized.
It is requested to all members to help the Food Committee by not requesting any early serving of food before Cultural programs are over.
Members are requested to abstain from instructing the Caterer directly on any matter. Any recommendations on food should be routed through the Food Committee.
No food shall be consumed inside the hall, including children. This is strictly prohibited by ITCC.
Chairs should not be pulled into the food area.
Thanks a lot to all of you in advance for your kind understanding.
---
For any further queries/clarification, kindly reach out to the following members of the Food Committee:
Subhashish Kar (+66 843601341)
Rajarshi Roy Choudhuri (+66 860122452)
Amborish Acharya (+66 910044959)
Looking forward to seeing you all during Durga Pujo.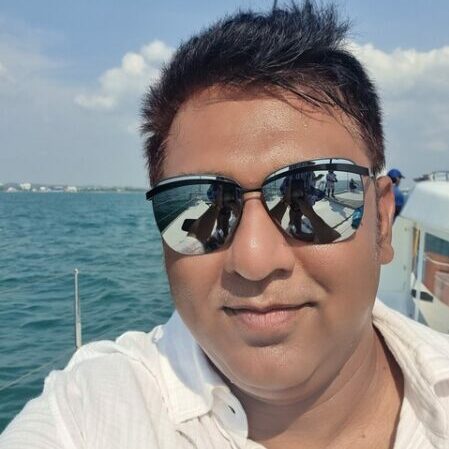 Sourjya lives and breathes all things tech – with more than 15 years of experience in strengthening businesses through Strategic Technology Planning, IT Empowerment, Enterprise Road-maps & Execution.