Bharati conducts online & remote Durga Puja '21 amidst COVID lockdown
The ancient adage – "Necessity is the mother of all inventions" manifested itself once again when the members of Bharati Thailand celebrated Durga Puja 2021 remotely amidst the COVID lockdown.
A Bengali association in Bangkok, unable to host a Durga Puja for the first time in 28 years because of Covid restrictions, is organising one linking up online with a priest's house in Budge Budge.

The members in Bangkok will participate in the anjali and aarati online while the priest will perform the puja rituals in the city.

"We realised because of the restrictions this year, we will not be able to organise the puja so we contacted the priest and requested him to make the arrangements. Some of the members here coordinated with him so we can offer our prayers online," said Souvik Roy, the president of Bharati Bengali Association in Thailand that organises the Durga Puja.

An email was sent to all members with the schedule of the puja and the broadcast timings for the Puja days.

"Pushpanjali, Sandhyarati, Sandhipuja will be organised at the stipulated time mentioned and no repetition would be allowed," the email said.

The puja is being arranged and performed by priest Mrinmoy Bhattacharya, who had been going to Bangkok for a few years during Puja before the pandemic.

The association, which currently has 60-odd families as members, was formed in 1993 and have been organising Durga pujas ever since.

"It is a first for me when the worshippers are thousands of miles away, but given the situation, this is the best option. Perhaps, this is what I would say is moving towards the new normal," said Bhattacharya who has been performing Durga puja since 2014.

Over the years, the puja in Bangkok has become popular and families away from their Kolkata homes celebrate the festival with cultural programmes.

Last year, too, the association organised the puja despite the pandemic. They did not have an idol but had a photograph of goddess Durga.

"The restriction currently in Bangkok is that not more than 25 people can assemble in any place. There is also a curfew from 10pm to 4am," said Roy.

"Not everyone has received both shots of the Covid vaccine and so, we did not want to take any risk. Puja is very close to everyone's heart and we thought we could at least chant the mantras and participate in the rituals, even if online."

The families, many of whom have roots in the city, have been unable to come to Kolkata for the last two years because of the pandemic. You can't connect the dots looking forward; you can only connect them looking backwards. So you have to trust that the dots will somehow connect in your future.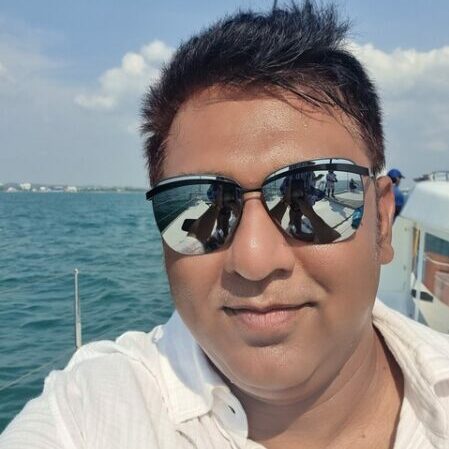 Sourjya lives and breathes all things tech – with more than 15 years of experience in strengthening businesses through Strategic Technology Planning, IT Empowerment, Enterprise Road-maps & Execution.