Maha Shashti Greetings, puja timings and Events for the Day
Bharati's Durga puja starts from today, albeit virtually. Please find the details for today's puja and cultural program and the link for attending the same.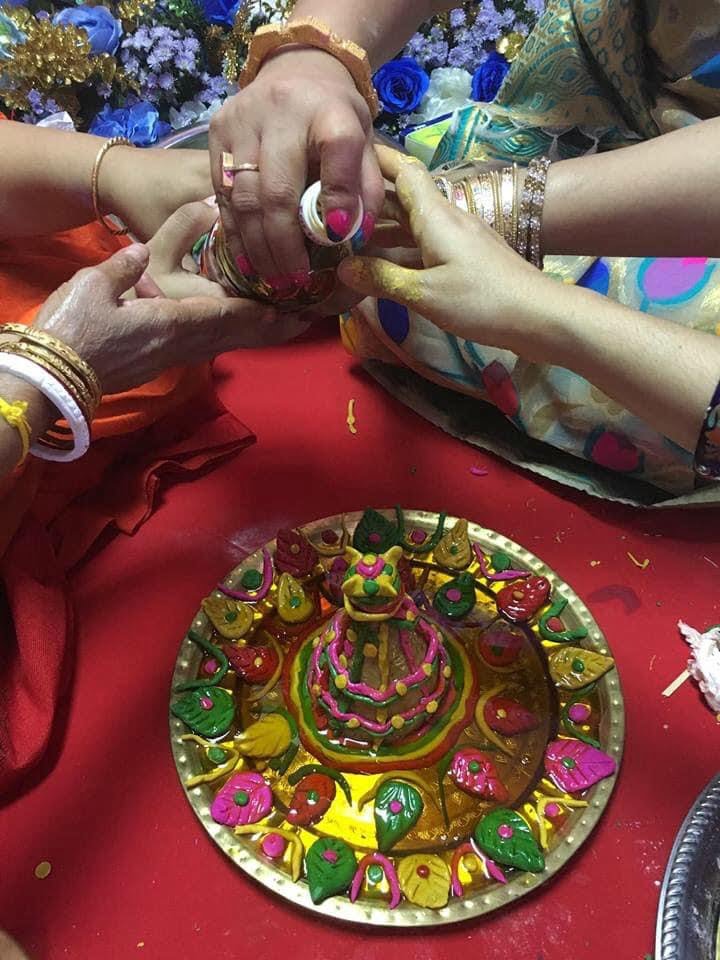 KINDLY JOIN THE GOOGLE LINK DURING THE BROADCAST TIMING. The google meet link remains the same across all days and evenings and for both puja and cultural programs.
https://meet.google.com/tcy-popw-nnz
Kindly note that Pushpanjali, Sandhya arati will be organized at the stipulated time mentioned and there will be no repetition. All participants are also requested to ensure they are on 'Mute' mode. If you are facing any technical difficulties joining the google meet, please call Abhijit Roy (0944866248) or Amitabh Mukherjee (0800232100) for assistance
SCHEDULE FOR MAHA SHASHTI (All timings are Thailand time)
| | |
| --- | --- |
| Particulars | Details |
| Date and Day | 11th October – Monday |
| Morning Puja | Starts at 9 am |
| Morning Broadcast Timing | 10 am – 11 am |
| Pushpanjali | 10.30 am – 11 am |
| Evening Broadcast Timing | 7.30 pm to 8.30 pm |
| Cultural Program | 7.30 pm – 7.45 pm |
| Evening puja | Starts at 8 pm |
Cultural Program for Maha Shashti (7.30 pm to 7.45 pm Thailand Time)
https://meet.google.com/tcy-popw-nnz
Sanghamitra Banerjee. We start the evening with the melodious agomoni song " Jao Jao Giri Anite Gouri'. Gouri's mother Maneka asks her husband Giriraj to bring her daughter home. In this song, Gouri universalises with all the women who leave their homes post marriage. The lament and longing of the mother Maneka also universalises with the mothers in the Bengal household for their daughter whom they see once a year.
Sumana Das. Sumana presents another melodious agomoni song "Borshe Borshe Esho Jao Ma'. Every Bengali looks forward to Ma Durga's annual visit. We hope and pray that our 'doshho-bhuja' and super powerful Ma will protect each of us from all misfortunes.
Archisha Bhattacharya. Archisha is a six-year-old dance enthusiast who smiles through all that comes her way. She has been learning dance online for the last couple of months from Swarnali Mitra who is based in India. Here is her dance recital, manifesting the fun Durga Puja showers us with. Choreographed by Swarnali Mitra, she will be dancing to the song 'Dugga Elo'.
Waste time carefully! It's precious …
💞 Prefer to say 'Oops' rather than 'What if'
🥀Limited edition crackpot
❣ Free spirit
❣ Wandered into my home & ❤ it