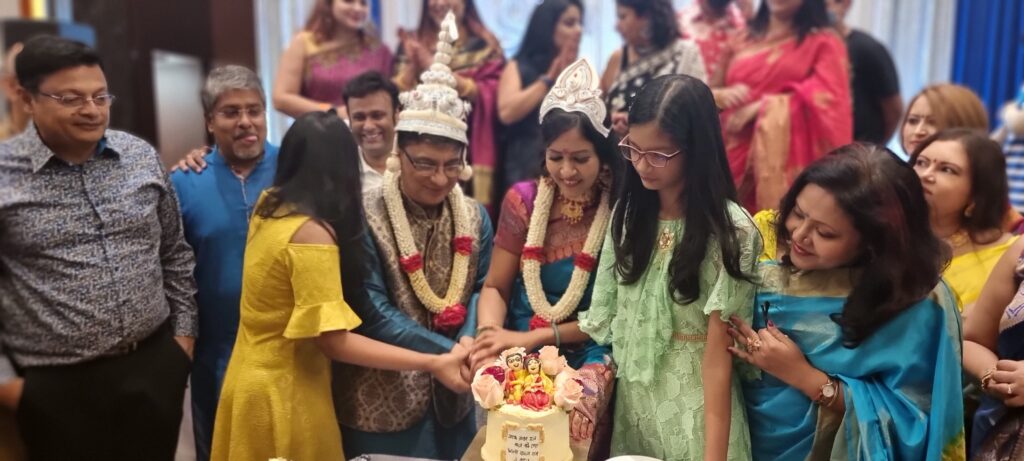 17 years is actually very long time. But when you have Bharatians around you it indeed just passed in blink of our eyes. Bharati is simply like a family to us. When we arrived here from Singapore, we didn't know what's in store rather took it just like another destination for maximum 4-5 years. We were lucky to meet Souvik in the initial days and through him quickly with a whole lot of other friends. Very soon our weekends became more interesting and happening than the weekdays. We had a mini Bharati (Popularly known as 'Aarati) to go around to nearby beaches, holiday destinations. Can't even remember how many places we visited together during long weekends etc.
Our daughters effortlessly got along with other children, and they have grown up to become the best of friends. The annual Durga Puja is our highlight of Bharati. Every year our children took part in various cultural perform. Why children? We also take part in whatever possible. Rehearsals are always fun. The various performances to and from people we're familiar with creates the atmosphere of a jovial community.
Another highlight of Bharati is Ravindra Jayanti where we perform Rabindra Sangeets. There are several other celebrations like Saraswati Puja, Laxmi Puja, Garba, Holi, Picnic etc. throughout the year organized by Bharati and we take part in most of those without hesitation.
The true spirit of Bharati was experienced by us when personally we were hit by a huge crisis in 2016. The entire 'Bharati Parivaar' came together and stood by us for almost 20 days from early morning to late evening. I will be indebted to 'Bharati' throughout of my life due to this.
Bharati is no more a club or association to us. It's an extended family. Members are not only friends they are part and parcel of our life journey. Wishing everyone of Bharati good health and prosperity of life. May Ma Durga bless abandoned happiness to all of you.